The Shocking Health Benefits of Saunas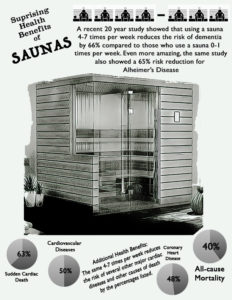 The amazing information highlighted in this infographic comes to us from two major studies that took place in Eastern Finland over more than a 20 year span. The almost unbelievable results showed the incredible and wide ranging benefits of regular (4-7 times per week) sauna use. The risk reduction for dementia and Alzheimer's Disease was astounding, showing a 66% and 65% reduction respectively. Moreover, an earlier study from the same region showed dramatic risk reduction in Sudden Cardiac Death (SDC), Cardiovascular Disease (CVD), Coronary Heart Disease (CHD), and all-cause mortality. For more information, please click on the links here:
Alzheimer's & dementia
&
heart disease
.